A Non-Medicated Treatment for Depression
Living with Major Depressive Disorder (MDD), or clinical depression, can significantly impact your life, but you are not alone. As you explore options for treatment, you may have tried one or many antidepressant prescription medications.
If medication isn't successful in treating your depression or you are looking for a non-medicated treatment option, consider exploring TMS therapy. TMS therapy is an alternative option to medication treatment and has a proven track record for remission for people living with depression.
Transcranial Magnetic Stimulation, or TMS therapy, is a safe process that many mental health specialists offer when therapy and medications aren't successful for their patients.
This FDA-cleared therapy treats depression right at the source using magnetic pulses on the areas of the brain that regulate mood. TMS therapy is not a prescription medication, so patients don't experience the side effects often caused by antidepressant medication. Due to its success, it is now considered a standard approach for patients with depression.
Transcranial magnetic stimulation (TMS) therapy uses a targeted pulsed magnetic field, similar to what is used in an MRI (Magnetic Resonance Imaging) machine. While the patient is awake and alert, TMS therapy stimulates areas of the brain that are underactive in people living with depression.
Central Iowa Psychological Services is pleased to offer NeuroStar Advanced Therapy, which includes three phases:
Before Treatment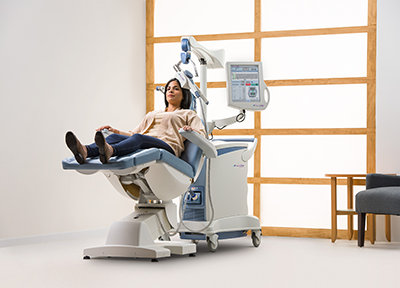 You'll recline comfortably in the treatment chair
A small, curved magnetic coil will be positioned lightly on your head
During Treatment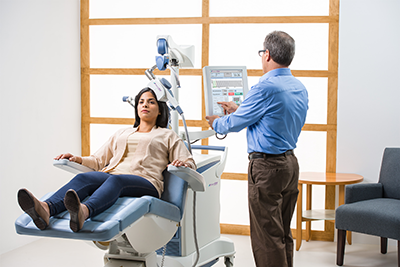 NeuroStar delivers focused magnetic stimulation directly to the target areas of the brain
You'll hear a clicking sound and feel a tapping sensation on your head
After Treatment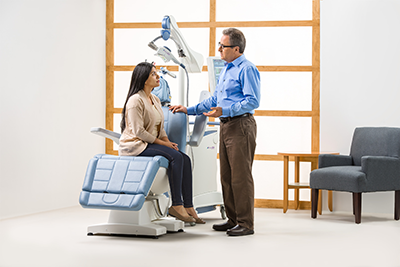 You can resume normal activities immediately
Due to there being no effects on alertness or memory, you can drive yourself to and from treatment sessions
SCHEDULE A FREE CONSULTATION
Our caring and supportive team at Central Iowa Psychological Services can help decide if TMS therapy is an option for you.
Why did we choose NeuroStar Advanced Therapy?
There are many options available for TMS therapy, but Central Iowa Psychological Services uses NeuroStar Advanced Therapy because of their proven results. They have the largest clinical data set of any TMS treatment available. Clinical studies with over 900 people show that NeuroStar helps achieve remission for people living with depression. Learn more about NeuroStar by visiting their website.
Real patients have found real success with NeuroStar treatment services at Central Iowa Psychological Services.
The National Institute for Mental Health, funded an independent and randomized controlled trial. The results showed that people treated with TMS using the NeuroStar Advanced Therapy were four times more likely to achieve remission compared to patients receiving sham treatment.

In-office treatment with NeuroStar TMS Therapy takes 19-37 minutes and is administered 5 days a week for approximately 4-6 weeks.
Is NeuroStar® Advanced Therapy Right For You?
If you agree with two or more of these statements, schedule a free consultation to learn more about NeuroStar® Advanced Therapy:
Central Iowa Psychological Services is recognized as a Bronze Stellar Distinction Provider with over 400 NeuroStar treatments performed during the previous 12 months.
Frequently Asked Questions
For people with Major Depressive Disorder (MDD), long-term remission becomes less likely with each prescription medication treatment attempt. As antidepressant medication increases, so can side effects and the potential for treatment failure.
NeuroStar Advanced Therapy can help people who struggle with MDD even after taking antidepressant medication. It helps activate the natural function of the brain's neurotransmitters using a non-invasive magnetic field.
For many people, depression symptoms significantly improved or went away after 4 to 6 weeks of treatment with NeuroStar Advanced Therapy.
In clinical trials after the acute phase of treatment, 33% of patients achieved remission, and 62% had a positive response (50% reduction in symptoms).
In our office, we see a positive response of 76.9% and a remission rate of 53.8%.
The most common side effect is discomfort at the treatment site. Some patients complain of a headache following treatments for the first few days. Your doctor may recommend taking an over-the-counter medicine before your treatment if you experience discomfort. Most patients find any discomfort lessens after the first 5 days of treatment.
You get to relax in a comfortable reclining chair. You will feel a tapping sensation on the front part of the left side of your head. Everyone perceives the pulses differently, and your provider can make adjustments so you are more comfortable.
Due to its innovative treatment and proven efficacy, NeuroStar TMS Therapy may be covered by your insurance health plan. Many insurance companies have established medical coverage policies for NeuroStar TMS Therapy. 
As coverage and payment can vary based upon the patient's specific plan and guidelines, it is best to contact your insurance company to verify eligibility, benefits, and coverage for TMS Therapy. 
Schedule A Free TMS Consultation